MilesWeb Review: Does This Cheap Web Hosting Provider Deliver?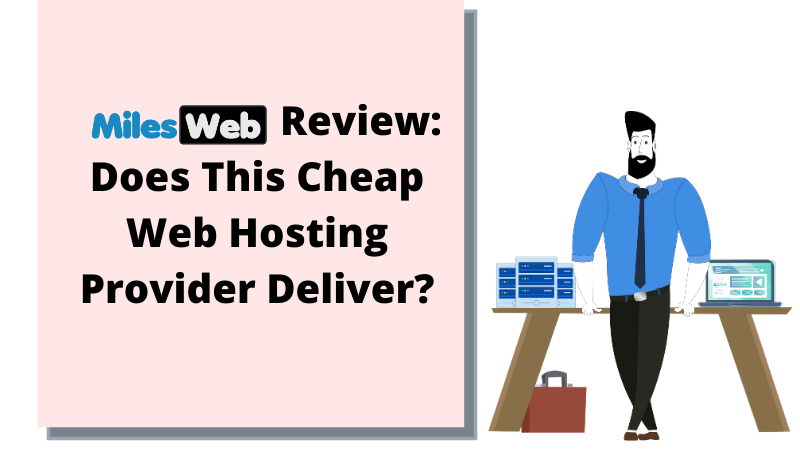 In the pandemic situation and post-pandemic, many businesses moved to the online platform to cope up with the changing nature of business. If you are yet to set up your business on an online platform it's the right time for you.

While you plan to start your business online web hosting is the important point. Getting the right web host for your website plays a vital role in getting the best website performance.

There are certain things to consider before you get a cheap web hosting plan from the web host.

Cost of plans: It is important to see if you are getting better resources in the cost and if the plan valuable for the money.

Server uptime: Check if the web hosting service provider is providing you the guaranteed uptime.

Customer support: See to it that the company is providing you with the best customer support.

Money-back guarantee: It is more satisfying if the company values your money. Make sure you get your money back if in case you are not satisfied with the plan.

Reviewing about MilesWeb, MilesWeb is a web hosting company based in India. It has only been on the market since 2012 but provides the best hosting facilities. MilesWeb has 30 000 customers at the moment. In its mission statement, the company states that it aims to "deliver quality services at affordable prices."

Furthermore, the company provides outstanding customer support.

Is this web host, however, up to the task? This MilesWeb analysis will tell you what you need to know about the deliverables.

The various Pros of hosting your website with MilesWeb are it provides the following with all the web hosting plans:

24/7/365 Support
99.95% Uptime Guarantee
WordPress Optimized
Backups
Website Builder
1-Click Installer
Webmail Access
DNS Management
FTP Over SSL
File Manager
Multiple PHP versions
PHP Configuration
Remote MySQL
PHPMyAdmin
InnoDB
Cache Manager
Cronjobs
Cloudlinux
Curl and Curl SSL
Hotlink Protection
LiteSpeed
CodeIgniter
Unlimited Sub Domains
Unlimited Parked Domains
Unlimited FTP Accounts
Cloudflare
SMTP, POP3, IMAP
Account Isolation
Briefing about MilesWeb:

MilesWeb provides the following web hosting plans:

Shared
Reseller
VPS
Dedicated
Managed Cloud
WordPress Hosting
Customer Support:
Time and again MilesWeb has proven that they are the best web hosts as they have been delivering the best customer service to date. MilesWeb provides customer service through live chat and emails 24-7-365.

Location of data centers
MilesWeb has data centers across the following countries:

India
the USA
the UK
Singapore
Australia
Canada
CMSs they provide
WordPress, Joomla, Drupal, etc. You can install these applications with the one-click installer.

Uptime guarantee
MilesWeb furnishes a 99.95% uptime guarantee on all web hosting plans. Thus the company assures the best website performance.

Various features are given by the company:
The company provides a free SSL certificate, SSD disk space, 99.95% uptime guarantee, unlimited bandwidth on all the plans except Tyro, free domain, money-back guarantee, and 24-7 customer support on all the plans.

Plan starting price
MilesWeb's base shared hosting plan is just at 40/mo.

Why Opt for MilesWeb's web hosting plans?

For beginners, small web projects, and business websites this provider is a good option. The rates are reasonable, and the plans include several perks. To develop your website, you can easily use a drag-and-drop feature of the website builder with hundreds of readily available templates.

You will benefit from a broad knowledge base with tutorials, videos, KBs, informative blogs and 24-hour support. Furthermore, MilesWeb's WordPress hosting services make it an excellent alternative for small online stores.

MilesWeb's Site Migration
MilesWeb provides a free site migration. You do not have to worry about uploading or downloading files, folders on the server. The migration task is entirely carried out by the web hosting service provider.

Anything from transferring website files to handling the hosting server is supposed to be taken care of by the company. MilesWeb guarantees that there will be no downtime during the migration. Your old host should have a best cPanel hosting control panel for a speedy migration.

MilesWeb's Uptime Guarantee
As uptime is the most concerned topic in web hosting, the company promises to provide the best uptime guarantee. MilesWeb with no doubt guarantees and provides a 99.95% uptime guarantee on all the websites you host. If the host fails to reach the agreed-upon benchmarks, the clients are compensated.

According to MilesWeb hosting ratings, the service provider meets the 99.95% uptime standard. Its track record appears to be very strong.

MilesWeb's Features for Best Performance
MilesWeb has included the SSD (Solid State Drive) storage in even the most basic plans. The SSD storage is much superior to standard HDDs (Hard Disk Drives). SSDs lack the spinning platters and moving read heads found in hard drives. As a result, their access speed is not reduced.

SSDs are significantly faster than HDDs in terms of random data distribution. According to MilesWeb, SSDs boost website speed by up to 200 percent.

MilesWeb's Web Hosting Types and Plans:
MilesWeb has 70+ web hosting plans under different types of web hosting. You can choose the one appropriate for your business needs.

Shared Hosting

The company has three plans under shared hosting namely Tyro, Swift and Turbo.

The base plan Tyro has the following resources in it.

Host 1 Website
1 Free Domain included
1GB SSD Disk Space
Unlimited Bandwidth
Control Panel
Free SSL Certificate
10 Email Accounts
3 MySQL DB's
"Unlimited" is how MilesWeb describes its shared hosting plans. With Swift and Turbo plans, there are no limitations on disc space, bandwidth, or the number of email accounts.

Reseller Hosting

The reseller hosting package given by MilesWeb is the most perfect one to start your reseller business.

MilesWeb has four reseller hosting plans namely Micro, Startup, Grow and Expand.

The base plan Micro has the following resources:

5 cPanel Accounts
10GB SSD Disk Space
Host Unlimited Domains
Unlimited Bandwidth
Free SSL Certificate
cPanel + WHM
Softaculous
Unlimited MySQL DB's
Unlimited Email Accounts
MilesWeb provides 100% white-labeled service with 24-7 expert support to you and your clients.

VPS Hosting

MilesWeb provides cloud-based VPS hosting. You get the best cloud infrastructure for your website.

MilesWeb has six plans under VPS hosting namely V1, V2, V3, V4, V5 and V6.

V1 is the base plan that has the following resources

2vCPU
2GB RAM
50GB SSD Disk
500GB Bandwidth
Free SSL Certificate
Dedicated IP
You have the option of selecting an operating system and a control panel in VPS hosting. Also, VPS plans come under two types, managed and self-managed.
Dedicated Server Hosting

MilesWeb uses Bare Metal dedicated server which is the most reliable server type. You get memory, storage, bandwidth, and a dedicated IP on all the dedicated hosting plans.

The servers have Intel Xeon processors with a minimum of 4 cores and a maximum of 20 cores+ HT.

MilesWeb's Support

According to MilesWeb, it aims to provide the "best-in-class customer experience." It provides technical support through live chat and emails 24-7. The company does, however, offer fast responses via chat and 15 minutes via email. According to customer feedback, the support staff is attentive, polite, and supportive.

Besides, the host has a comprehensive knowledge base that includes several video tutorials. It includes questions and answers about cloud servers, control panels, domains, SSL, CMS, shopping carts, and other topics. The material is kept up-to-date, as shown by the specifics of entries.

MilesWeb's Security

MilesWeb has several security features. It includes a web application firewall that protects your website from malicious SQL injection and XML-RPC DDoS attacks. Connection to your website is protected by a two-step authentication mechanism by MilesWeb.
To conclude:

We indeed recommend MilesWeb for your website as it provided you with all the said deliverables at a reasonable rate.